Bangladesh and Its Private Sector
On our 50th anniversary of independence, we recall with deep respect Bangabandhu Sheikh Mujibur Rahman, Father of the Nation, and the Muktijoddhas [freedom fighters]. We pay homage to all our brave Muktijodhas for giving us our freedom. Our debt to all the heroic men and women in our freedom struggle can never be repaid — our undying gratitude. We remember all those who sacrificed their lives for our freedom, and we pray for the salvation of their departed souls.
As we celebrate the golden jubilee of our independence and Mujib Borsho — the birth centenary of the Father of the Nation, Bangabandhu Sheikh Mujibur Rahman, Bangladesh stands strong, transiting into middle-income status by the year 2026 and a developed country by the year 2041. Our expanding manufacturing base, strong agricultural production, increased exports earnings, healthy foreign remittance and vibrant domestic demand have indeed taken the economy to a new growth trajectory.
As per International Monetary Fund (IMF), Bangladesh today is ranked the 35th largest economy. The government's "Vision 2021" helped build strong socio-economic fundamentals to start the transition process to become a Middle-Income Country (MIC). In many social parameters, we have also performed exceptionally well. In 2021, we stand confident of our future. Price Waterhouse Coopers (PWC) projects Bangladesh to become the 28th largest economy by the year 2030 and by the year 2050, PWC further projects Bangladesh to be the 23rd largest economy. Bangladesh is now ready to transform itself into a prosperous country.
As we enter our 50th year, we carry thousands of years of history, culture, and heritage from ancient Bengal to the shaping of our state in the modern era. Our journey begins with March, as this is the month that reshaped our future. We discover our country and its people who live with the treasures of the fertile sediments across the entire land in a beautiful aqua green landscape. We embark on a journey to also rediscover our land, our culture, and our progress.
Bangladesh, as a country, precisely abridges the key attributes of the emerging South Asian markets and ranks among the fastest-growing markets of South East Asia. According to global experts, Bangladesh is poised to become a middle-income country by 2021. At present, the country fares well with a USD 220 billion economy and 159.9 million population, of which 50% are less than 25 years old, a thriving middle-income segment and stable GDP growth of above 5% over the last decade. Bangladesh's growth has been resilient during the 2008-09 global financial crisis and recent global recession. The country aspires to become the regional manufacturing hub with a pool of competitive labour. Bangladesh is targeting to be a developed country by 2041.
Bangladesh has successfully completed its MDG targets and now concentrating on the SDGs. The country has its seventh Five Year Plan (2016-2020), goals of which are aligned with the SDGs. Bangladesh is also closely working to address climate change issues and has adopted its strategy.
Bangladesh has achieved a Ba3 (Moody's) stable rating for a good number of years, and Bangladesh's country rating by Moody's is currently higher than that of Sri Lanka (B1). The current macroeconomic situation in the country is characterised by a manageable fiscal deficit and a low current account deficit of BDT 97,85.3 m as per Budget 2016-17. The stable macroeconomic situation is an outcome of a mixture of prudent monetary and fiscal policies that are being pursued. The current account balance in 2015-16 is USD 2,934 million. This reflects the country's continued high growth in exports, increased flows of remittances, and moderate growth in the money supply. Read Bangladesh Economic Review 2020 for more details.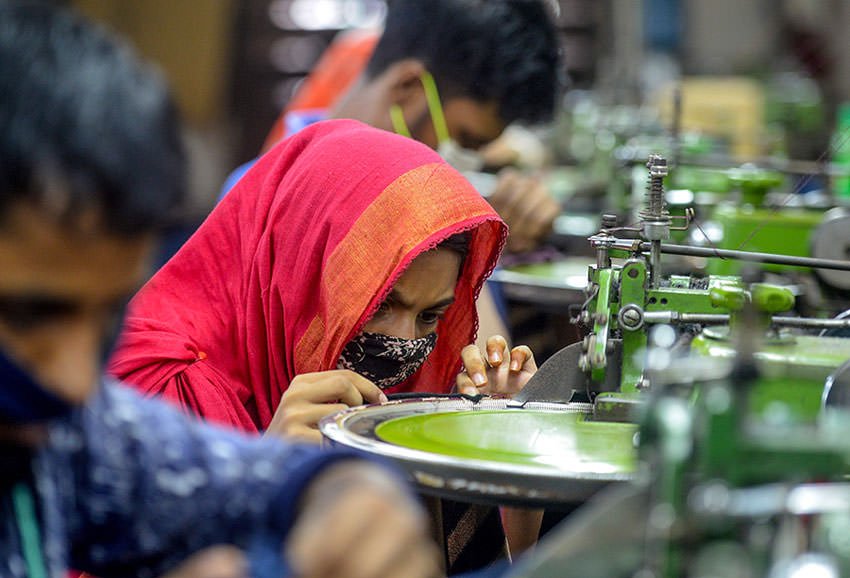 According to the Bangladesh Bureau of Statistics, the GDP growth rate has reached 7.05%. For the first time, Bangladesh has achieved this growth rate with a vision to stable on it. Bangladesh's Ba3 rating reflects stable and strong growth performance and modest debt burden.

Bangladesh — A Country with a Vibrant Private Sector
In particular ready-made garments, the export-oriented industries propelled the manufacturing sector to new heights, with a vibrant private sector taking advantage of the low unit labour costs to expand into new markets. Finally, the service sector has gained momentum from relatively strong domestic demand, bolstered by remittances and new policy initiatives allowing more private participation and increased competition. The private sector turns the wheel of economic activities of the country, aided by a liberal export-oriented economic policy. Bangladesh has gradually transformed itself into an assembling and manufacturing heart, seeking rapid expansion of the service sector. Private investment in 2015-16 stands at BDT 3767.5 Billion (USD 47.84 Billion) compared to the public investment of BDT 1313.8 Billion (USD 16.68 Billion) in the same year. As a percentage of GDP, the private sector component had increased from 16.8% from 2001-02 to 21.8 % in 2015-16.
Listen to the pulse of the private sector development. Read our bi-monthly newsletter, Connect.